If You Have Symptoms, Go To the DOCTOR RIGHT AWAY if:
1. You or your sexual partner is pregnant or thinking of getting pregnant.
- OR -
2. You've had a high fever which then drops to 38°C/100°F along with:
Very bad stomach pain.
Constant throwing up.
Blood in vomit.
Fast and/or difficult breathing.
Bleeding gums.
Extreme tiredness or weak all over the body.
Restlessness.
- OR -
3. You have muscle weakness, numbness, tingling, or severe headache and pain when you bend neck.
Ask your doctor/healthcare provider whether you can take medicines for pain and fever. Some pain relief medicines can be dangerous if you have dengue.
Take acetaminophen (like Tylenol) for fever and pain until your doctor confirms that you do not have dengue.
Do not take ibuprofen (like Advil and Motrin), aspirin, or aspirin-containing drugs. This can cause internal bleeding.
---
Can I Get Tested for These Diseases?
Yes. Talk to your doctor. They can follow state guidelines to determine if they should order a blood or urine test.

Testing guidelines vary by state but generally you can get tested for Zika:
If you have Zika symptoms, - OR -
you are pregnant, and have traveled to or live in an area that has Zika, - OR -
you are pregnant and your partner has traveled to an area that has Zika.
---
If You Are Sick, Avoid Mosquito Bites!?
During the first week of being sick, a mosquito that bites you can get infected. After about one week, that mosquito can then bite a family member or neighbor and make them sick.
Once a mosquito is infected, it can infect people for the rest of its life (up to one month).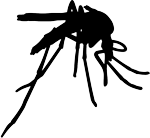 ---
Protect Yourself from Bites While You are Sick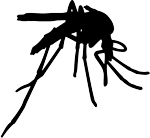 Keep mosquitoes out of your house.
If you have air conditioning use it rather than opening the windows.
Stay in a room with screens on the windows and doors.
Aedes aegypti mosquitoes like to hide inside! Check the room for any stray mosquitoes.
Shake out the curtains, look in closets and under beds and furniture.