WHAT ARE THESE DISEASES? LET'S LEARN ABOUT THEM!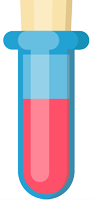 Zika, dengue, and chikungunya are viruses spread by the same types of Aedes species of mosquitoes.
All three viruses can cause similar symptoms. In order to know if you have one of these diseases, you have to go to the doctor and get a blood or urine test.
People can be infected with these viruses and not know it.
Even if a person doesn't have symptoms, the virus can still be in their blood.
Mosquitoes can bite someone who is infected. After the virus has developed, which can take a week or more, mosquitoes can pass the virus to someone who is healthy.
---

WHAT HAPPENS TO YOU?
The illness is usually mild. The symptoms can last several days to a week.
People usually don't get sick enough to go to the hospital, and they rarely die of Zika.
Many people might not even realize they are infected with the Zika virus. Four out of five people who have Zika don't have symptoms!
After you are bitten by an infected mosquito, it can take up to 2 weeks for you to notice symptoms, but they usually go away after 3-7 days.
HOW SERIOUS IS ZIKA?
Zika infection can cause birth defects, even in women who do not have symptoms, and can be spread through sex. Learn more about Zika & Pregnancy.
There is no vaccine to prevent infection or specific medicine to treat Zika.
ZIKA CAN CAUSE NEUROLOGICAL PROBLEMS
Though relatively rare, Zika is also linked to Guillain-Barre syndrome, that causes weakness in arms and legs. This can be a serious condition resulting in permanent paralysis in some people. Other neurological problems are also being studied.
---

WHAT HAPPENS TO YOU?
After you are bitten by an infected mosquito, it can take up to 2 weeks for you to notice symptoms, but they usually go away in a week.
In general, younger children have milder symptoms than older children and adults.
HOW SERIOUS CAN DENGUE BE?
Dengue can be very severe.
There are four types of dengue virus.
People who get infected with more than one type are at risk for shock and hemorrhage.
In severe cases, people die.
There is no specific medicine to treat dengue.
---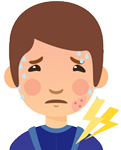 WHAT HAPPENS TO YOU?
Chikungunya can be very painful! You can't even get out of bed to go to the bathroom because your joints and muscles hurt so much.
After you are bitten by an infected mosquito, it can take up to 3-7 days for you to notice symptoms, but they usually go away after a week. For some people the pain can last for two years.
There is no vaccine to prevent or specific medicine to treat chikungunya.
---
WHO IS AT RISK FOR THESE DISEASES?
Anyone who lives in, commutes or travels to an area where these viruses are found.
---
WHERE IS ZIKA?
Areas with Risk of Zika
Cape Verde
Mexico: All states in Mexico
Africa: Angola, Benin, Burkina-Faso, Burundi, Cameroon, Central African Republic, Chad, Congo (Congo-Brazzaville), Côte d'Ivoire, Democratic Republic of the Congo (Congo-Kinshasa), Guinea-Bissau, Equatorial Guinea, Gabon, Gambia, Ghana, Guinea, Kenya, Liberia, Mali, Niger, Nigeria, Rwanda, Senegal, Sierra Leone, South Sudan, Sudan, Tanzania, Togo, Uganda
Asia: Bangladesh, Burma (Myanmar), Cambodia, India, Indonesia, Laos, Maldives, Malaysia, Philippines, Singapore, Timor-Leste (East Timor), Thailand, Vietnam
The Caribbean: Anguilla; Antigua and Barbuda; Aruba; The Bahamas; Barbados; Bonaire; British Virgin Islands; Cayman Islands; Cuba; Curaçao; Dominica; Dominican Republic; Grenada; Guadeloupe; Haiti; Jamaica; Martinique; Montserrat; the Commonwealth of Puerto Rico, a US territory; Saba; Saint Barthelemy; Saint Kitts and Nevis; Saint Lucia; Saint Martin; Saint Vincent and the Grenadines; Sint Eustatius; Sint Maarten; Trinidad and Tobago; Turks and Caicos Islands; US Virgin Islands
Central America: Belize, Costa Rica, El Salvador, Guatemala, Honduras, Nicaragua, Panama
The Pacific Islands: Fiji, Marshall Islands, Micronesia, Palau, Papua New Guinea, Samoa, Solomon Islands, Tonga
South America: Currently includes: Argentina, Bolivia, Brazil, Colombia, Ecuador, French Guiana, Guyana, Paraguay, Peru, Suriname, Venezuela
Last Updated: April 19, 2017
Laboratory-confirmed symptomatic Zika virus disease cases* reported to ArboNET by states and territories - United States 2017.
* Case counts include all symptomatic Zika virus disease cases, including cases in travelers returning from affected areas, cases acquired through presumed local mosquito-borne transmission and cases acquired through other routes. Cross hatching signifies areas with reported local mosquito-borne transmission in 2017.
Data from Centers for Disease Control & Prevention: https://www.cdc.gov/zika/reporting/2017-case-counts.html
Provisional data as of May 17, 2017
Visit CDC's Traveler's Health website for health information about your destination. CDC Website